A One-Week Frugal, Real Food Meal Plan (that we actually use)
When you want to save a little time in the kitchen, try out this ready-made meal plan. It's frugal, simple, and made with real food ingredients! (And it's super tasty!)

I love experimenting in the kitchen with new recipes, but I also rely on tried-and-true meals that I can make with minimal effort. I do meal plan, so generally I mark down a couple of new recipes I'd like to try that month, and then fill the rest of the meal slots with my repertoire.
Today I'm giving you a one-week meal plan that's pretty typical for us. It will be a great fit for you if:
You eat (or want to eat) a real food diet
You don't mind a few meatless meals
You don't have common food allergies
You like eating frugally and simply
This meal plan might work for you even if you don't fit all of the bullet points above–you can always find ways to add meat or use dairy substitutions, for instance. I think it's interesting (and helpful) to see what other families actually eat, not just what a magazine or cookbook suggests you eat. This is what we really eat, with links to some of our family's favourite recipes.
You'll notice that I just include breakfast and supper menus. That's because for lunch, we always have just two options: either leftovers, or sandwiches with fresh fruit and veggies. (This is idea #7 on ways to simplify your life!)
To keep things frugal, we have beans and rice at least once, with leftovers throughout the week. Sometimes I mix it up a bit by serving lentils instead, like in this meal plan. We also do 85% of our grocery shopping at Aldi. If you haven't been there please check it out! The prices are fabulous!
When you want to save a little time, try out this ready-made meal plan. For ongoing meal planning inspiration (tailored for families who want to save money), I would check out Frugal Real Food Mean Plans from Don't Waste the Crumbs.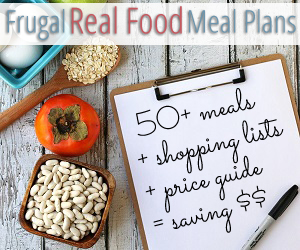 Frugal One-Week Meal Plan
Sunday
Breakfast – Cinnamon Roll Baked Oatmeal, seasonal fruit (I mix up the oatmeal ahead of time and then bake on Sunday morning)
Supper – Popcorn and smoothies (yogurt or kefir base with frozen fruit, fresh spinach, frozen peas, and any extra superfoods you want to add like kelp powder or plant protein)
Monday
Breakfast – Grits and sardines
Supper – Korean beef, rice, broccoli
Tuesday
Breakfast – scrambled egg and cheese tortillas
Supper – cozy lentils, oranges
Wednesday
Breakfast – yogurt bowls with nuts, fruit, oats, etc.
Supper – fried rice (there are lots of variations for this!)
Thursday
Breakfast – eggs, toast
Supper – baked potato soup, blueberry buttermilk muffins
Friday
Breakfast – yogurt bowls with nuts, fruit, oats, etc.
Supper – sesame chicken, rice, fresh green beans
Saturday
Breakfast – buttermilk pancakes, bacon
Supper – homemade pizza (here's an easy crust recipe), salad
[question]What frugal meals make it onto your meal plan? Feel free to share a link in the comments![/question]